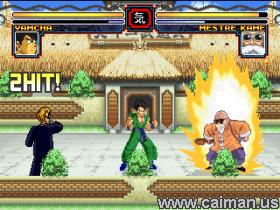 English:
A great fighting game in the style of "DragonBall vs Streetfighter".
In "Dragon Ball Z MUGEN edition 2", you and/or a friend can transform yourself/s into one of these 27 (4 hidden) chatacters: Goku SSJ2, Goku Normal HD, Son Gohan, Mystic Gohan, Yamcha, Piccolo, Normal Trunks, Future Trunks, Chibi Trunks, Vegata Normal 2, Majin Vegata, Kuririn, Androide 18, Kaio Shin, Mr. Satan, Mestre Kame, Cell Junior, Recoom, Raditz, Zarbom, Freeza, Cell and Mr. Boo. The hidden characters are Vegata SSJ4, Pan, Broli, and Goku SSJ4. Some of these characters even have their own special ability. There are also 61 colorful stages (backdrops) from which to choose!
Several different play modes are sure to please everyone from the beginner to the expert.
These include:
Arcade - Go 1 on 1 against the computer
VS Mode - Go 1 on 1 against your friend
Team VS - Play various team-up modes against your friend
Team Arcade - Play various team-up modes against the computer
Team Co-op - Gang up against the computer with your friend
Training - Try out moves and combos
Watch modes - Watch AI-controlled characters fight
The Options Menu includes:
Difficulty = 1 (Easy) - 8 (Hard)
Life = 30% - 300%
Time Limit = 20, 40, 60, 80, 99 or None
Game Speed = Slow (9-1), Normal or Fast (1-9)
Wav Volume = Off to Max (0 - 100)
Midi Volume = Off to Max (0 - 100)
Input Configs for Joystick or player/s controls
Team Mode Config for AI (Computer) player
Load/Save these values
Select default values
Controls During Menu:
Arrow Keys = Highlight
a, s, d, z, x, c, v = Select
Esc = Previous Menu
Controls During Game Play: (Single Player)
Left/Right Arrows = Move Left/Right
Up/Down Arrows = Jump/Kneel
Pause = Pause
F12 = Screen Shot
Space = Restores full life and power to all players
The following keys are used to provide an offensive blow to the opponent which is usually kicking or hitting:
a, s, d, z, x, c, v
Pause Key During Training Mode = Options Menu for Training Dummy
shkarkoni ne:
Kodi:

http://dlx.caiman.us/pageN.php?nr=1951&f=1951-dbzme2.zip