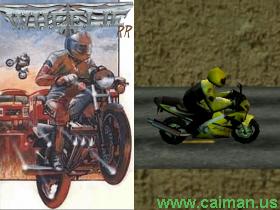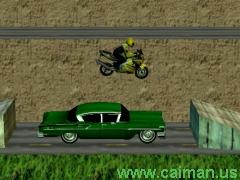 English:
In this 3d motorcylce game (a remake of a 1983 game called Wheelie by Microsphere) your main goal is to find the ghostrider and beat him to the checkered flag. The secondary goal is to score as many points as possible. One way of doing this is by riding up the ramp and jumping over cars. One of the neatest parts of the game are the crashes. Even though you lose a life when you crash you wont be disappointed in the effects. Even the sound effects are very realistic.
Wheelie has many different visual options, such as camera zoom and gamma correction. With the command line options, the game can be played in full screen mode up to 1024x768. Wheelie also includes a level editor.
For keyboard controls and options be sure to read the included readme file.
shkarkoni ne kete link:
Kodi:

http://dlx.caiman.us/pageN.php?nr=1476&f=WheelieRR.zip