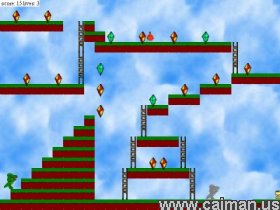 A typical gamemaker's platformer with a crocodile
Story:
Caicroc was a normal crocodile living in a swamp along with his parents and all lived happily until...
...Caicroc's meeting with this creature changed his life. He was offered a challenge...
Caicroc had to travel a long way from his cosy home place travelling through rivers, forests and a lot more habitats beating the best of creatures to save our earth's creatures which were threatened by these bosses.
These adventures even take him to the greatest challenge of all, that of beating the demon to save humanity too.
Will Caicroc be able to save our creatures beating bosses far better than him? Will his strenght be enough? Can you help?
This game achieved the fifth place in the Caiman Crocodile Contest
Controls:
- Arrows = Move/Jump
- Space = Fire
s/freepix/3528-1.jpg[/img]
shkarkoni ne kete link:
Kodi:

http://dlx.caiman.us/pageC2.php?nr=3528&f=3528-CaicrocAdventure.zip